Inflation uncertainty for Canada
---
Data for all graphs and tables can be downloaded here
1. Figure 1. Minimum distance characteristics of fitted TPN and WSN distributions to U-uncertainties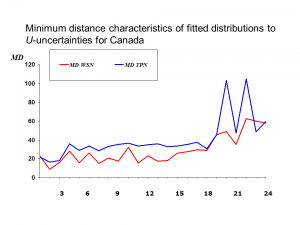 WSN fits better than TPN, especially for short and medium horizons.
2. Figure 2. Term structure of the compound strength of forecast-induced monetary policy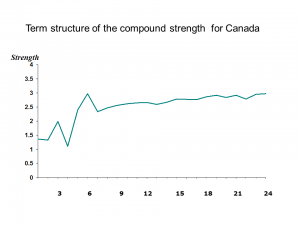 The compound strength is computed as:

, where

. In the policy-input symmetric case, where

(and this is the assumption applied for empirical estimation), the multipliers

can be ignored.
3. Table 1. Forecast uncertainty measures
| h | th.uncert | RMSE(u) | std(v) | UR | NUR |
| --- | --- | --- | --- | --- | --- |
| 1 | 0.0294 | 0.315 | 0.307 | 1.52 | 0.671 |
| 2 | 0.0658 | 0.315 | 0.368 | 2.19 | 0.965 |
| 3 | 0.11 | 0.342 | 0.315 | 1.36 | 0.601 |
| 4 | 0.161 | 0.392 | 0.302 | 0.95 | 0.419 |
| 5 | 0.218 | 0.434 | 0.312 | 0.828 | 0.365 |
| 6 | 0.281 | 0.496 | 0.544 | 1.93 | 0.85 |
| 7 | 0.348 | 0.542 | 0.584 | 1.86 | 0.82 |
| 8 | 0.42 | 0.61 | 0.681 | 2 | 0.881 |
| 9 | 0.497 | 0.578 | 0.426 | 0.871 | 0.384 |
| 10 | 0.577 | 0.603 | 0.457 | 0.921 | 0.406 |
| 11 | 0.662 | 0.739 | 0.769 | 1.74 | 0.767 |
| 12 | 0.75 | 0.786 | 0.81 | 1.7 | 0.751 |
| 13 | 0.817 | 0.809 | 0.83 | 1.69 | 0.745 |
| 14 | 0.868 | 0.809 | 0.831 | 1.69 | 0.746 |
| 15 | 0.907 | 0.827 | 0.848 | 1.68 | 0.743 |
| 16 | 0.937 | 0.848 | 0.86 | 1.65 | 0.728 |
| 17 | 0.96 | 0.859 | 0.874 | 1.66 | 0.732 |
| 18 | 0.976 | 0.867 | 0.874 | 1.63 | 0.719 |
| 19 | 0.987 | 0.897 | 0.907 | 1.64 | 0.722 |
| 20 | 0.994 | 0.925 | 0.931 | 1.62 | 0.717 |
| 21 | 0.998 | 0.937 | 0.936 | 1.6 | 0.706 |
| 22 | 1 | 0.954 | 0.957 | 1.61 | 0.712 |
| 23 | 1 | 0.972 | 0.977 | 1.62 | 0.714 |
| 24 | 1 | 1 | 1 | 1.6 | 0.707 |
4. Figure 3. Ex-post and ex-ante inflation fan charts
| | |
| --- | --- |
| | |
| Ex-ante uncertainty |           Ex-post uncertainty |
Data for all graphs and tables can be downloaded here