Inflation uncertainty for Japan
---
Data for all graphs and tables can be downloaded here
1. Figure 1. Minimum distance characteristics of fitted TPN and WSN distributions to U-uncertainties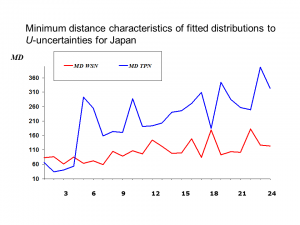 WSN fits better than TPN, especially for medium and long horizons.
2. Figure 2. Term structure of the compound strength of forecast-induced monetary policy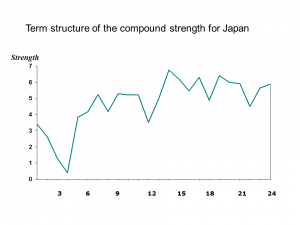 The compound strength is computed as:

, where

. In the policy-input symmetric case, where

(and this is the assumption applied for empirical estimation), the multipliers

can be ignored.
3. Table 1. Forecast uncertainty measures
| h | th.uncert | RMSE(u) | std(v) | UR | NUR |
| --- | --- | --- | --- | --- | --- |
| 1 | 0.0294 | 3.45 | 3.08 | 1.61 | 0.71 |
| 2 | 0.0658 | 3.57 | 3.13 | 1.55 | 0.685 |
| 3 | 0.11 | 5.5 | 5.51 | 2.03 | 0.895 |
| 4 | 0.161 | 6.09 | 6.15 | 2.07 | 0.912 |
| 5 | 0.218 | 6.48 | 6.3 | 1.91 | 0.843 |
| 6 | 0.281 | 6.88 | 6.76 | 1.95 | 0.862 |
| 7 | 0.348 | 7.79 | 7.58 | 1.91 | 0.844 |
| 8 | 0.42 | 8.74 | 8.45 | 1.89 | 0.835 |
| 9 | 0.497 | 9.7 | 9.85 | 2.09 | 0.922 |
| 10 | 0.577 | 9.98 | 9.72 | 1.92 | 0.847 |
| 11 | 0.662 | 9.88 | 9.47 | 1.86 | 0.821 |
| 12 | 0.75 | 12.6 | 12.6 | 2.02 | 0.893 |
| 13 | 0.817 | 11.5 | 11.7 | 2.1 | 0.927 |
| 14 | 0.868 | 1 | 1 | 2.02 | 0.893 |
| 15 | 0.907 | 1 | 1 | 2.02 | 0.893 |
| 16 | 0.937 | 1 | 1 | 2.02 | 0.893 |
| 17 | 0.96 | 1 | 1 | 2.02 | 0.893 |
| 18 | 0.976 | 1 | 1 | 2.02 | 0.893 |
| 19 | 0.987 | 1 | 1 | 2.02 | 0.893 |
| 20 | 0.994 | 1 | 1 | 2.02 | 0.893 |
| 21 | 0.998 | 1 | 1 | 2.02 | 0.893 |
| 22 | 1 | 1 | 1 | 2.02 | 0.893 |
| 23 | 1 | 1 | 1 | 2.02 | 0.893 |
| 24 | 1 | 1 | 1 | 2.02 | 0.893 |
4. Figure 3. Ex-post and ex-ante inflation fan charts
| | |
| --- | --- |
| | |
| Ex-ante uncertainty |           Ex-post uncertainty |
Data for all graphs and tables can be downloaded here